10 Small Business Website Design & Marketing Tips You Can't Afford to Ignore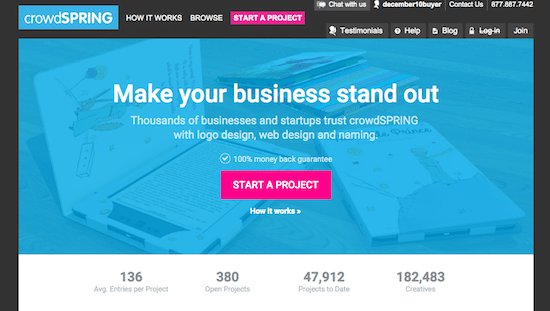 Website tips for small business
Afterall , you need your website to do it all: represent your business, capture leads, close sales, climb to the top of search engine results, and connect to all your other digital platforms seamlessly. And you—you have to do it all too: choose your content, write & design your pages, connect your marketing tools, test it out, and not spend a million dollars or hours getting from A to B to blastoff.
In this article, we're going to walk you through the 10 proven website tips for small business that will help take you from 'I need a website' to 'my website does wonders for my business.' We'll cover content creation strategy, small business website design, and essential marketing principles to weave in throughout the process.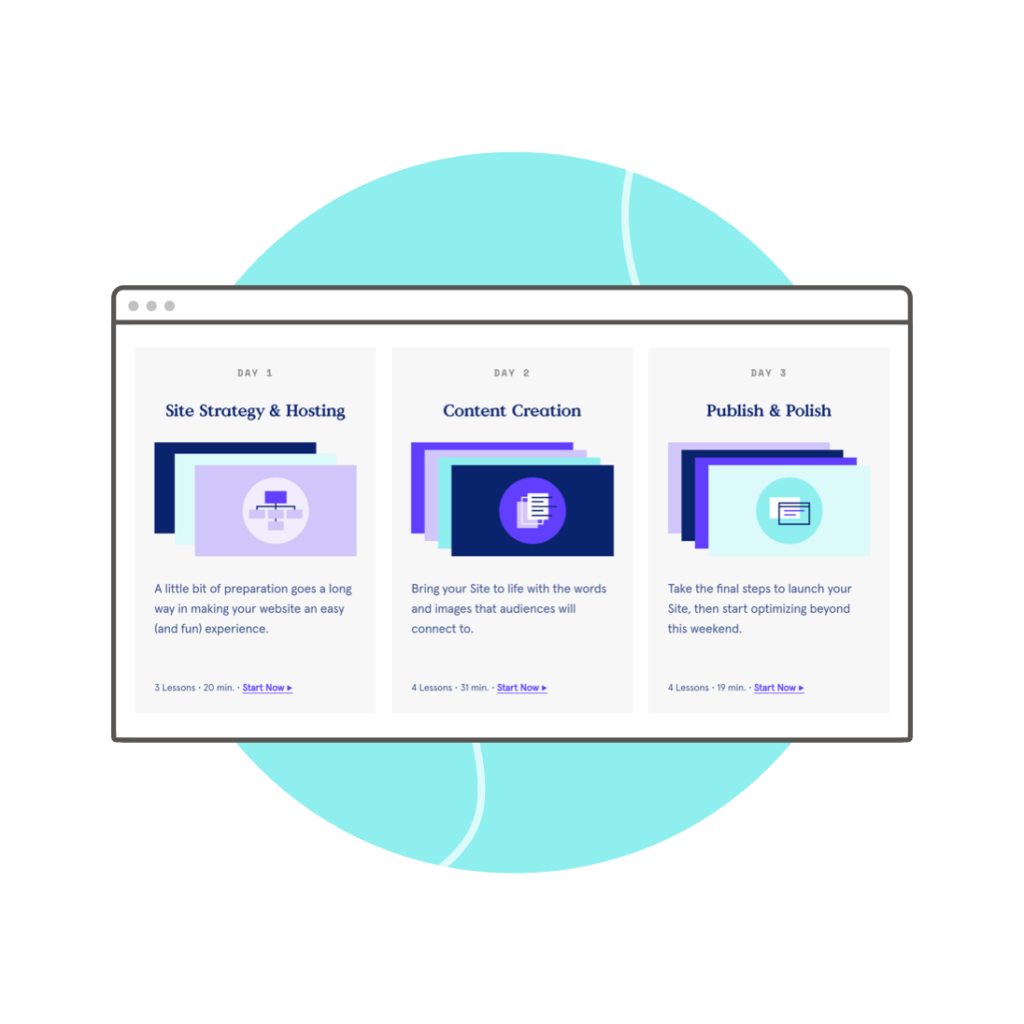 Create your Website in a Weekend
Small business websites are the bread and butter for budding entrepreneurs… They are the "hub" of all business activity. All "spokes," like a small business' social media accounts, email marketing, print collateral, and other marketing channels should lead potential customers there.
Many small business owners fear that because they don't know code, they can't have a website presence. Thanks to modern-day tools, there are multiple website builders out there with drag and drop functionality, so no coding skills are required. Zilch. Zero. Nada.
So, whether you're starting, managing, or growing any type of business online today, or are successful off-line businesses coming online for the first time… jump on it! Never forego or skimp on creating a lead-generating website for your business. It can capture leads and give you the online presence you need to make an impact with your core audience.
And if you don't grasp what's at stake when you don't think through your web strategy, you could be missing out on the real money makers: generating leads, selling your product or services, demo requests, consultation scheduling, and more.
2. Showcase your products and services.
We've seen many small business web designs that failed to effectively show their products or services and many others that tried to showcase far too many products or services on one page.
If you're selling products and your customers will buy the products online, you need to make sure that the product photos – or graphical images and descriptions – are clean, crisp, and appropriate.
You can have a great site design, but if your product photos look terrible, your prospective customers will think twice about buying your products. Look at how well-known online stores present products (Amazon, Apple, Zappos are all good examples).
If your product or service is web-based, consider using images of phones or computers and embed your showcase images within those images. That will help people anticipate how they'll engage with your product or service.
Tip: Don't overload your site with photos or graphics. Although it's been said that a picture can say a thousand words, pictures can also confuse and diffuse attention.
5. Organize your site to provide a better user experience.
People also prefer good organization. Keep in mind that when your prospective customers visit your site, they're typically looking for specific information. They're rarely going to read entire pages – they'll skim headlines and small portions of text and look at photos or graphics (but not all of them on the same page).
Advanced Tip: action buttons/links should be clear and unambiguous. For example, "Save" is not the same as "Submit." Consider a user's expectation when they click a button or link and make sure that your labels properly set those expectations. Whenever possible, make sure your copy reflects complete sentences and not isolated words or phrases. For more about effective CTAs, I recommend you read 17 Best Practices for Crazy-Effective Call-To-Action Buttons.
What to consider when making a small business website
When creating a website, there's no 'one size fits all' solution. You'll need to consider your goals before you get started, so that you can implement design elements and tools to achieve your objectives.
For instance, a dentist's office would need a completely different website than an architecture firm. Whether you want to inform visitors about a brick-and-mortar business or conduct sales online also significantly influences how your site should look.
You should also think about the expected traffic to your website. If you want to sell products online, you may receive a lot more attention than a local business that relies on in-person sales. Your needs in this area will influence which platforms and hosting providers are suitable for your site.
How to make a small business website (in 9 easy steps)
Once you have a clear direction for your website's goals, you can start digging into the process of designing and building it. Here are nine key steps to help you launch your business' online presence:
Step 1: Choose your website building platform
Step 2: Pick your domain name
Your domain name should ideally align with your business name. If you're unsure of which name you should choose, there are several online generators that can provide you with some inspiration, such as DomainWheel: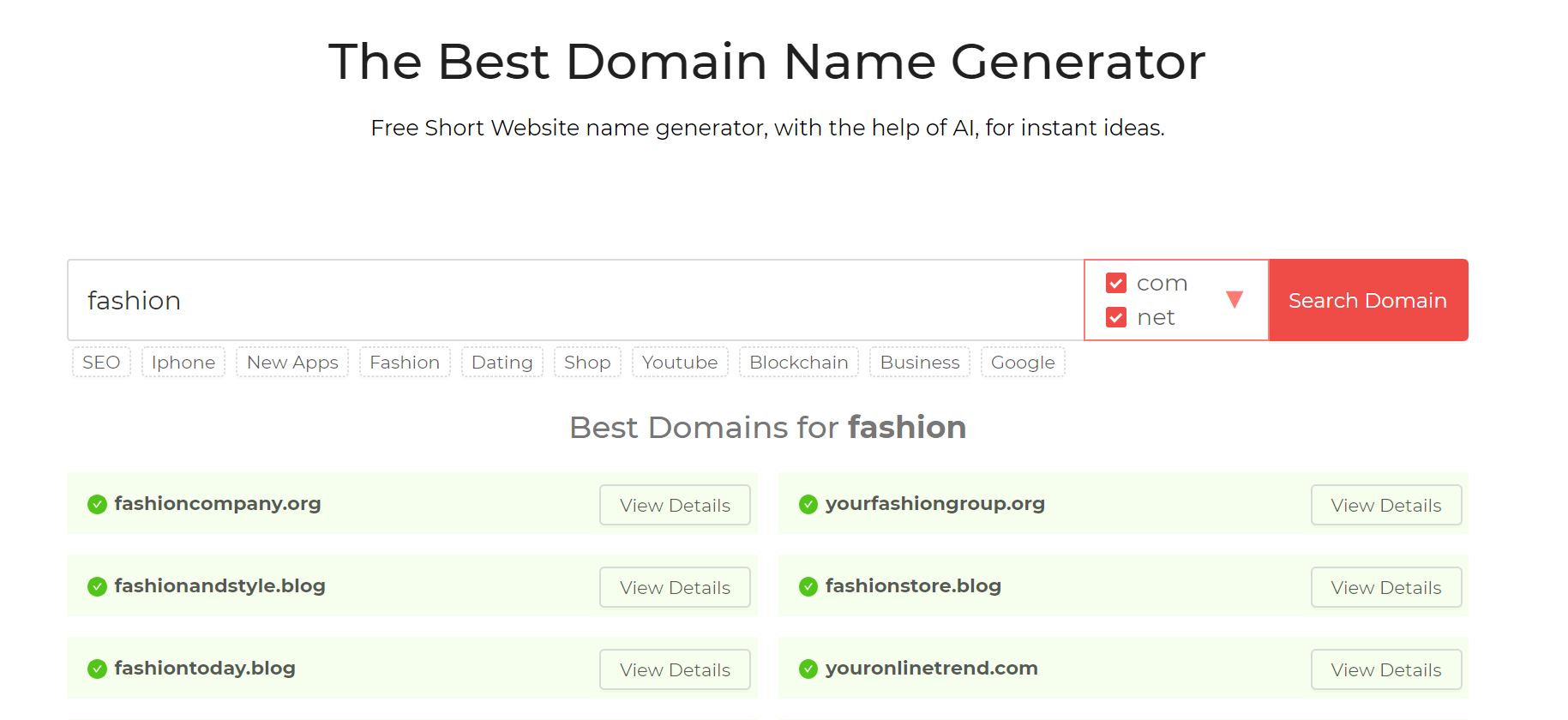 Don't worry about purchasing your domain name yet – you'll be able to register your domain name when you sign up for hosting (in the next step). Or, if you want to use a tool like Squarespace or Wix, you can also purchase your domain name through those tools.
Step 3: Find your hosting provider
Step 4: Install the WordPress software
Again, you can skip this step if you'd rather use an all-in-one website builder such as Squarespace. However, if you'd prefer to use WordPress and a hosting company, you'll need to install the software to use the Content Management System (CMS).
This process may be different, depending on your chosen hosting provider. Therefore, we recommend referring to your host's official documentation. You can also check out our official beginner's guide on how to install WordPress on your site.
Step 5: Select a theme or template
Once you Install and Activate the theme of your choice, you can customize it. Alternatively, you may want to consider a premium WordPress business theme. These products often include features such as pre-built portfolios, e-commerce pages, and page builder integration.
Then, you'll land straight in the editing area, where you can customize almost all your site's elements. We recommend reviewing any changes on the front end to make sure that they look good.
Step 6: Install plugins or extensions
Plugins (in WordPress) and extensions (in Squarespace and other page builders) can add new features to your website. Without these tools, you may struggle to get the most out of your small business site.
Performance and optimization. Having a fast-loading website is an important goal for most website owners. As such, you may want to consider optimizing your site's performance with caching and database optimization. The WP-Optimize plugin can handle all of those tasks. For best-in-class image optimization, check out Optimole.
Security. We recommend opting for a plugin that can protect your site against spam, hackers, and other malicious actors. For example, Sucuri Security is an excellent all-in-one solution that has a free and premium version.
Backups. Database and file backups are essential in case something goes wrong with your website. As such, you might consider using a plugin such as Updraft Plus to handle these critical tasks.
Search Engine Optimization (SEO). SEO can make your small business website more visible and help you attract new customers. We recommend using the Yoast SEO plugin to help with optimizing your content.
E-commerce. If your small business has an online store, you'll need an e-commerce plugin to handle your sales. WooCommerce is one of the best choices for a WordPress website. Here's our guide on how to install WooCommerce and set it up properly.
When choosing plugins or extensions, we recommend opting for tools with high ratings and regular updates. You can also read other users' feedback to see if the plugin will be suitable for your needs:
Sources:
https://www.leadpages.com/blog/small-business-website-tips/
https://www.crowdspring.com/resources/design/10-important-web-design-best-practices-tips-small-business-websites
https://themeisle.com/blog/how-to-make-a-small-business-website/